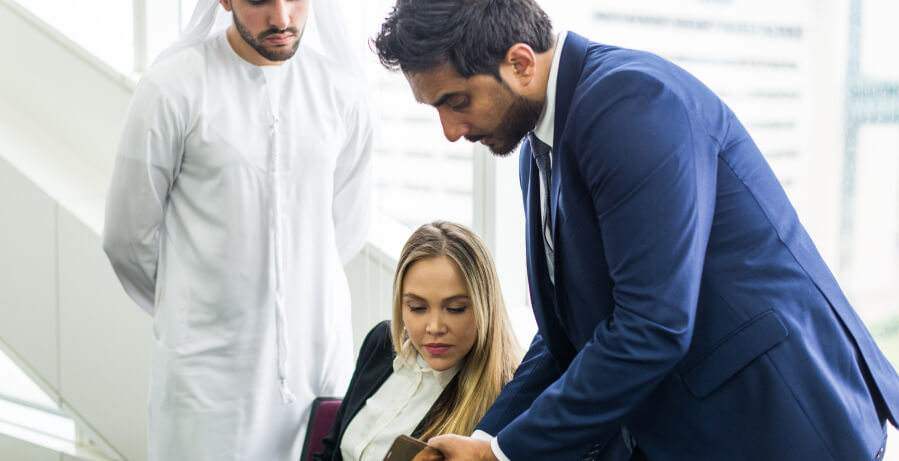 Interested In An LLC Company Formation In Dubai? Seek Professional Help From Vertex Global Consultants!
An LLC formation in Dubai is the preferred company type by many entrepreneurs. It involves an easier process and offers a host of economic advantages. LLC company formation in Dubai provides flexibility as an enterprise, offering the advantages of a corporate structure and a business partnership.
At Vertex Global Consultants, it is our mission to help entrepreneurs looking to put up a local business within Dubai and make the experience as smooth, efficient and hassle-free as possible. Right from the initial consultation to Dubai LLC licence fees up to the actual LLC formation in Dubai, our clients benefit from a comprehensive and streamlined service, implemented by the industry's most experienced LLC formation specialists.
We're ready to talk when you are. Our experts will guide you through the enterprise options available to you and assist you in determining the most feasible and profitable type of company formation for your business. If you're considering an LLC formation in Dubai, below is an overview of its structure and advantages to help you get a clear view of its organisational core and functions.
Structure And Benefits Of An LLC Formation In Dubai
Forming an LLC company in Dubai gives entrepreneurs maximum legal ownership of their local business through 49 percent ownership of the company's shares. LLC companies require local partnership with a UAE national, who will hold 51 percent of the shares. These companies can be formed by a partnership of a minimum of 2 people up to 50 shareholders. In this form of partnership, the local Sponsor receives a fee, the amount of which can be determined and stated in the legal agreement you will sign and enter together, prior to setting up the company. The fee can be arranged as a fixed annual fee, a certain percentage of the company's profits, or a certain percentage of the company's sales. Most LLC type of companies implement the fixed annual fee structure as it does not require the foreign owners or investors to disclose their accounts.
Though an LLC company is made up of shareholders, its operations and management can be entrusted to the foreign partner, the national partner/s or a third party.
LLC companies are authorised to engage in any business activity or industry, with the exception of banking and monetary investments on behalf of insurance companies and other parties.
Entrepreneurs who choose to set up a Dubai LLC company get access to the following incentives:
100 percent exemption from tax
100 percent repatriation of capital funds and profits
No minimum amount required for capital
Investor can assume Partner position in the company
Company can hold an unlimited number of offices and/or properties in UAE
Company can obtain unlimited number of visas (depending on size of the office space)
Investors can open office branches
Investors can obtain a UAE residence visa and for their families as well
Ease of opening global and local corporate bank accounts
More freedom on business activities
Minimal nationality restrictions on ownership and visas
Our LLC formation specialists will be with you from start to end of the process
With their deep understanding of the local market, our business set-up specialists can provide the support and expert advice you need in establishing an LLC in Dubai. We offer an organised and integrated service that covers the following requirements for LLC companies:
Screening & selection of local sponsor
Determining the company or trade name
Approval from Licensing Department and Economic Department
Investor can assume Partner position in the company
Attestation of a Memorandum of Association (MoA)
Registration of the LLC in the Ministry of Economy and Commerce
Opening local and/or global bank accounts
Finding a strategic office space
Ease of opening global and local corporate bank accounts
Facilitating visa applications
Our LLC formation specialists will be with you from start to end of the process
We will also provide you with all the information you need prior to starting, so you can weigh your options and make informed decisions. From the steps and paperwork involved to identifying the Dubai LLC license fees and deadlines, we will make sure you are able to comply with all legal requirements within your ideal timeframe. Generally, LLC companies can be formed and set up between two to three weeks from the date when all required documents have been submitted and duly received.
Experienced and qualified specialists from Vertex Global will facilitate the process on your behalf, in order to ensure the success of your endeavour whilst reducing the possibility of errors, delays and additional costs.
To ensure that we deliver the best PRO services in Dubai our client needs, every account is assigned a dedicated account manager, whose purpose is to focus on the requirements of the client and deliver the same in a timely manner. This allows us to prevent the accumulation of added costs, while delivering faster PRO services at the same time. More importantly, with a dedicated point of contact, clients are able to receive constant progress updates, leading to their peace of mind.
Receive The Best PRO Services In Dubai, Abu Dhabi And The UAE
Whether you have an urgent requirement or one-time processing for a single requirement, or a long term partnership for all your current and future requirements, Vertex Global offers a fast, cost-effective and reliable PRO solution for your company.
Our expert PRO solutions include specialised services for corporate needs, including setting up corporate bank accounts, liaising with authorities, Business Setup in UAE (LLC Company, Freezone Company, etc.), business clearance, certifications, and company liquidation, among other professional PRO services.
Business and employee regulations may vary in each Emirate. That is why at Vertex Global, we have consultants that specialise in grasping and keeping up-to-date with each Emirate's local laws and regulations so we can readily assist you with pro services Abu Dhabi, Dubai or anywhere in the UAE.
With PRO services in Abu Dhabi and Dubai tailored for your needs, there is no need for you to navigate legal requirements on your own, no need to stand in queue and wait for your turn to submit paperwork, or call up different agencies to facilitate the documents of your company and employees.
Considered amongst the top PRO services companies in Dubai, we do all that for you to enable you to focus on your business and your clients. To know more about our complete range of PRO Services, get in touch with any of our consultants. We are here to help you.
Partner with one of the best PRO companies in Dubai, UAE today
Vertex Global Consultants has established itself as one of the most trusted business consultancies in Dubai and UAE, with its highly dependable solutions and professional approach to every client need. We believe that the most valuable business resource is time, and we will make sure that your time and your trust do not go to waste by accomplishing your needs on-time.
Uninterrupted business operations and employee productivity is what we always aim for when we provide the best PRO services in Dubai and Abu Dhabi, UAE. We understand that you have day-to-day tasks and client requirements to meet. Through our services, you need not worry about miscellaneous tasks that we can conveniently accomplish for you. Our in-depth understanding of the UAE's laws and regulations on businesses and labour will help your company avoid mistakes and additional costs, and ensure the process is smooth, organised and completed on time.
Engage our expertise and take advantage of the exceptional knowledge and experience of our consultants, in order to meet all your business and employee requirements with ease, expediency and efficiency.
Frequently Asked Questions
What is an LLC or Limited Liability Company?
A Limited Liability Company or LLC, for short, is a corporate business structure wherein the individual shareholders cannot be personally held liable for the company's debts or liabilities. In the UAE, an LLC company can be formed with up to 50 shareholders.
What are key criterions and the minimum capital needed to start an LLC Company in the UAE?
One of the biggest benefits of starting a UAE LLC company is that there is no share capital requirement. Businesses can get started with an initial capital of just AED 20,000. The other basic criteria are to register the trade name & to obtain approval for the products or services you hope to sell.
How are LLCs taxed?
One of the major perks of starting your business as an LLC company is that you can trade anywhere within the UAE & GCC. Additionally, an LLC company is also eligible to receive a Tax Residence Certificate from the Ministry of Economy.
What are the different types of business licenses that an LLC company can hold?
An LLC company can operate with all the three business licenses currently offered within the UAE – Commercial License, Professional License, and Industrial License.
Why should I choose to start an LLC company over a UAE Free Zone Company?
Apart from the obvious benefit of Limited Liability Protection, the other major benefits of starting an LLC include low startup costs, an extensive range of business activities, and the freedom to operate from anywhere within the UAE.