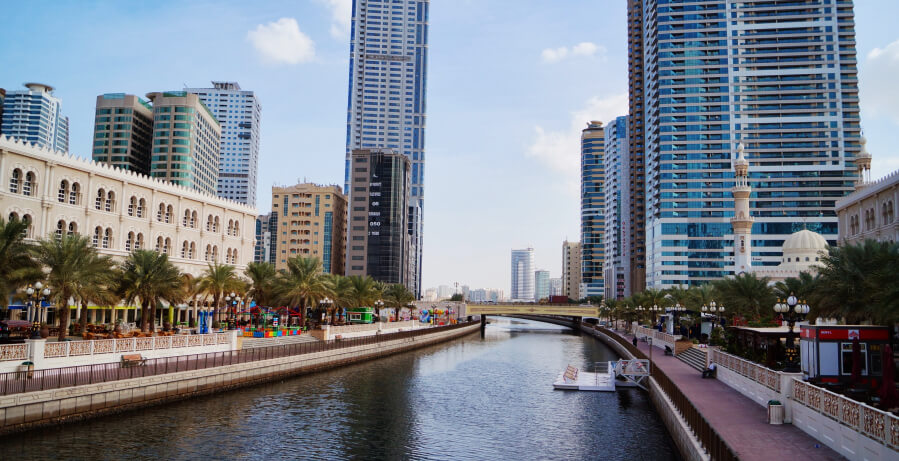 After Dubai and Abu Dhabi, Sharjah is the third largest Emirate of the UAE contributing to at least 7.4% of the GDP of the UAE and the only one to have land on Gulf of Oman and the Persian Gulf. There are several free zones which offer well developed infrastructure, high ranking business amenities and complete privacy to the investors.
HAMRIYAH FREE ZONE AUTHORITY (HFZA)

Established by an Emiri decree issued on November 12, 1995 is one of the leading cornerstones of UAE's industrial development. HFZ is ensuring its believe in the flexibility in the management besides being an investor oriented free zone. It is offering all the business incentives to the investors of 100% company ownership, 100% repatriation of capital and profits. It is also managing a 14-meter-deep water port which includes scope of expansion along with its industrial and commercial land.

SHARJAH AIRPORT INTERNATIONAL FREE ZONE (SAIF)

Sharjah Airport International Free Zone (SAIF), located near the Sharjah International Airport providing several enticing business opportunities in the region including simplicity in the process for business set up for SMEs and speedy service, also 100% transfer of funds.

Warehouses, storage areas, container parking, bunkers and labor housing with the lower costs and higher quality are available in SAIF. As a result of various business incentives offered by SAIF, most reputable companies operating in the Middle East consider SAIF zone as their base.

SHARJAH MEDIA CITY (SHAMS)

Sharjah Media City (SHAMS) is labelled as the cultural capital of the United Arab Emirates. SHAMS was introduced with an aim to be a hub for media and creativity of world-class quality. Being focused on media and creativity, this community fosters a energetic environment to encourage innovation, co-creation, education, modern transformations. It not only offers the start up, SMEs and established companies to grow and expand locally but in all over the world.